Travels
James travels all over the world, consulting and teaching, and his schedule stays booked most of the year.
However, he does find time to enjoy his surroundings and the people who host him. This section will include travel photos and notes from people he spends time with, and their adventures together.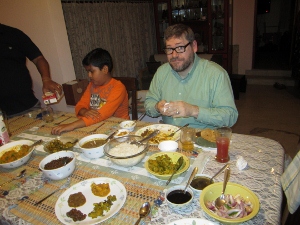 A blog post by Sunil Kumar after meeting James in India, "Vivid Tester".
Dining with the family of expert test manager, Meeta Prakash, in Bangalore (at right, 26 Nov 2012)
Can you test without testing? Watch this video from the London Tester Gathering at Skills Matter, where James gave an insightful talk about the essence of testing, includes the slideshow presentation.
Three Days of Kobayashi Maru; A blog post by Aleksis Tulonen
Aleksis blogs about his experience in the RST class taught by James, although challenging, he was grateful for the journey. Read about what Aleksis learned about himself and his role as a Tester.

Ilari Henrik blogs about James' recent RST class at eBay International for the testing community. James is pictured here on a day trip to Jungfraujoch.
Preparing for RST Class in Dordrecht, Netherlands (April 2012)
At right, James having dinner with dutch Context-Driven testers Huib Schoots, Jean-Paul Varwijk, and Pascal Dufour, demonstrating "Gray Code" as a test design technique.
RST Class in Bucharest, Romania (March 2012)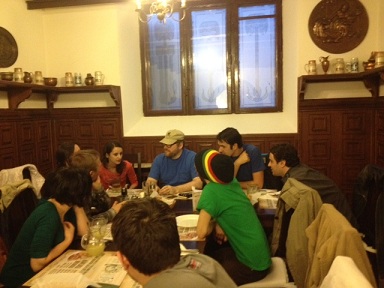 James solving testing puzzles with RST students; Photo courtesy of Alex Rotaru
Swiss Testing Day in Zurich, Switzerland (March 2012)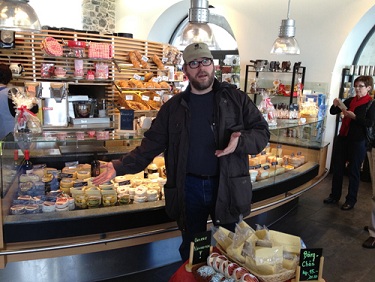 By Ilari Henrik Aegerter
At right, James checks out a Swiss Cheese shop in Engelberg, Switzerland with fellow Tester Ilari Henrik Aegerter. Courtesy of Ilari
Visit to Table Top Mountain, which overlooks the city of Cape Town, South Africa (Oct 2011)